PIONEERING ART IN DIGITAL MEDIA
Founded in 2015, Datata is a digital art Incubator that curates, commissions, exhibits and sells original, digital artworks by emerging and established international artists. As a pioneer of art in digital media, the platform has commissioned more than 400 artworks from over 100 artists to date and collaborates with galleries, museums, collections, art fairs, festivals and other organizations such as NASA, Kiasma, MOCAD, Art Basel, Phillips, Hauser & Wirth and kurimanzutto among many others. With an interest in supporting artists who create artworks that bridge digital and physical media, Daata's projects are often multidimensional, ranging from image to video NFTsto physical installations and objects.
designboom spoke to founder David Gryn and web3 strategist and Chief Technology Officer (CTO) Josh Hardy to learn more about Daata's mission and their perspective AI tools and how digital media is disrupting the art world. "My job was to work with artists who work with technology, like artists who work with tubes of paint." notes Gryn during our interview. "The best artists always make the most of technology. It doesn't make you a good artist because you have the best tools in your hands. This has always been the mythology that the tool actually makes you a good artist. It's never done that to anyone.' Read the conversation in full below.
Still image by Damien Roach, SEED TWO (ii), 2022 | AI generated video with sound, NFT | Courtesy of the artist and Daata
INTERVIEW WITH David Gryn AND Josh Hardy of DATATA
designboom (DB): Can you introduce Dataa's mission? Do you work with artists directly or through other galleries? How do you choose who to work with?
David Gryn (DG): Data started as a commission platform for artists working with digital media, supposedly video and sound works, mp4, mp3. Our mojo has always been, until today, how can we empower and support artists working with specific technologies? We started hiring, paid the artists a fee for their work, made sure they received a royalty on sales, and found ways to promote them in the market with results that went beyond the website, such as: B. Physical events. I have a background in curating, enabling projects with fairs like Art Basel and encouraging galleries and artists to show their digital work when they wouldn't normally take it to an art fair. I've been doing this for 20 years and we effectively started as Datata nine years ago. In my time doing this we have commissioned about a hundred artists, we have many galleries that we work with while we often work with museums and art fairs.
I always hoped that there would be a bigger marketplace and that there would be more than a few platforms doing what I did and what we did. Now we have this tsunami of platforms and that brings us to a very interesting place. This possibility brings almost a hyper excitement compared to before when we tried to get people excited just because a person is watching a video. Expectations have changed, everything has changed in the last two years and we too had to recalibrate. When we started we weren't a technology platform, we were a website built by very close partners who had the technical skills to build a website that we could show videos on, but we weren't techies. Josh (Hardy) came to us, took over the site and built our skillset to do projects with NFTs, Augmented Reality and all the things we realized we had to make sure we could do before we could breathe . Everyone approached us to work with them, but we still didn't feel like we were in the perfect place just because we had artistic artwork and content. We didn't want to just say yes to everyone just to help their business model. We probably should have said more yes than no, but we felt like we could believe in what we were doing and trust the process, not just for ourselves but for the artists we represent and with we work together
DB: Although some platforms like yours have been around for a number of years, this moment feels really fresh and exciting for digital art. Somehow things are just beginning now.
DG: It's one of those times when you just know to take a deep breath, recalibrate and not be afraid of it. Change is often scary for people, but I think promoting an artist is always about promoting something that will keep changing, because that's what artists do. We need to be a platform that can support that, but also breathe with it and change along with the artists we work with. But they also want to know that we will be a strong platform and protector for them too. So it's about how we move forward together as new artists come along. We're currently talking to artists who are literally in their early twenties doing brilliant work and we recognize that. They're adapting to technology that someone in their 30's, 40's, or 50's might not have.
We're seeing something very new and exciting, things like AI and VR just weren't there. Those who grew up with it really have a different understanding. It's a bit like going to Western City or seeing ceramics somewhere like Tokyo or Kyoto. You realize that there is a different appreciation for this matter because it comes from somewhere that believes and trusts this material in a way that is so different from how we were raised. In a way, this clock has gone so fast with digital technology, while it may have taken thousands of years with ceramics.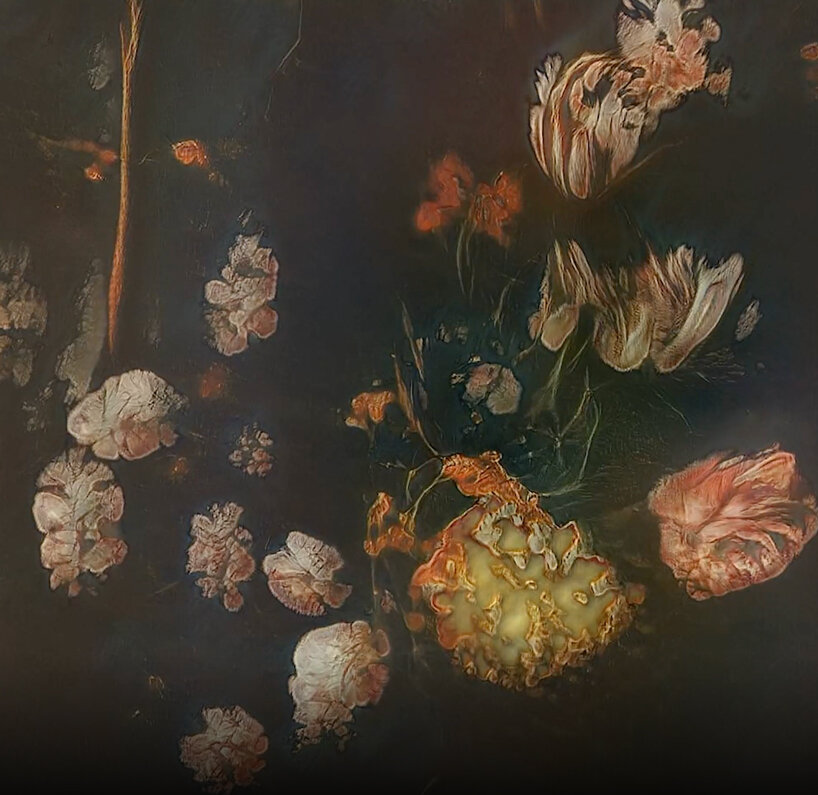 Still image by Damien Roach, SEED TWO (ii), 2022, courtesy of the artist and Daata
DB: Are you only interested in the digital sphere or are there physical extensions of your work?
Josh Hardy (JH): Actually, Seed, the project we just started with Damien Roach, has a physical component. It consists mostly of NFTs, which are videos generated by an AI model that he trained on 19th-century Dutch flower paintings.
DG: He's a musician, so he also came up with a soundtrack that includes the sound of an orchestra. The first buyer of the longer video-based work gets a skateboard, and then there are another 55 NFTs that are shorter and they come with a scent! We also have a limited edition of 55 t-shirts that are unrelated to NFT and are all different. Merchandise is embedded in some of the things we do with artists because it adds a kind of repertoire and dialogue around the work. It's not the logic of merch, it's more the feel of the NFT world and the idea of ​​being able to own things. Not just for those who might be able to afford the more expensive things, but for other forms of ownership as well. It's not really lucrative, but it's part of the narrative. In fact, most of the artists we work with are very excited about merch. I think they look at the pop world and they think it's the same. It's not, there's such a big audience in the pop world. Even at the top end of the art world, you don't have that much interest. They don't have millions and millions of followers of any particular art form, people might be aware of that, but I don't see an equation. Maybe with the music world when it's at its best.
JH: I just think things are disrupted by technology. Every industry is being disrupted, and I think in a way it's the art world's reckoning with the internet and technology. It didn't work before, but solving the digital file ownership problem meant you could distribute art, and when you can have that level of distribution then of course you start thinking, well, when we can distribute to a lot more people , we can lower the price. Vertical thinking about the art world, where some people sit up here and then everyone else down there just goes to a gallery and pays to look at some things on the wall, is suddenly turned on its side. It is much broader and everyone can get involved and participate. It might not be that elitist.