Art Basel and its satellite fair seem to be back to normal this year. There's a lot of variety – even more so than at Frize London last year – but the same paintings are always the dominant presence. NFTs haven't changed that yet. One thing that's struck me this year is how many of these paintings are by artists who didn't make their name by applying paint to canvas, but found a way into the process. For example:
Jenny Holzer: '25', 2022 by Kujke – oil on canvas, 61 x 46 cm
One would probably say that language is Jenny Holzer's primary medium, most famously represented by LED signs. But her ongoing series Redaction Paintings uses oil on canvas to translate government documents declassified by the Freedom of Information Act into paintings — declassified but often heavily redacted. In fact, in this case the words "Top Secret" are the only ones that can be read, so the painting functions primarily as a golden abstraction with values ​​in materials (24k gold, palladium, platinum and red gold leaf) and painterly quality and not in the information carried.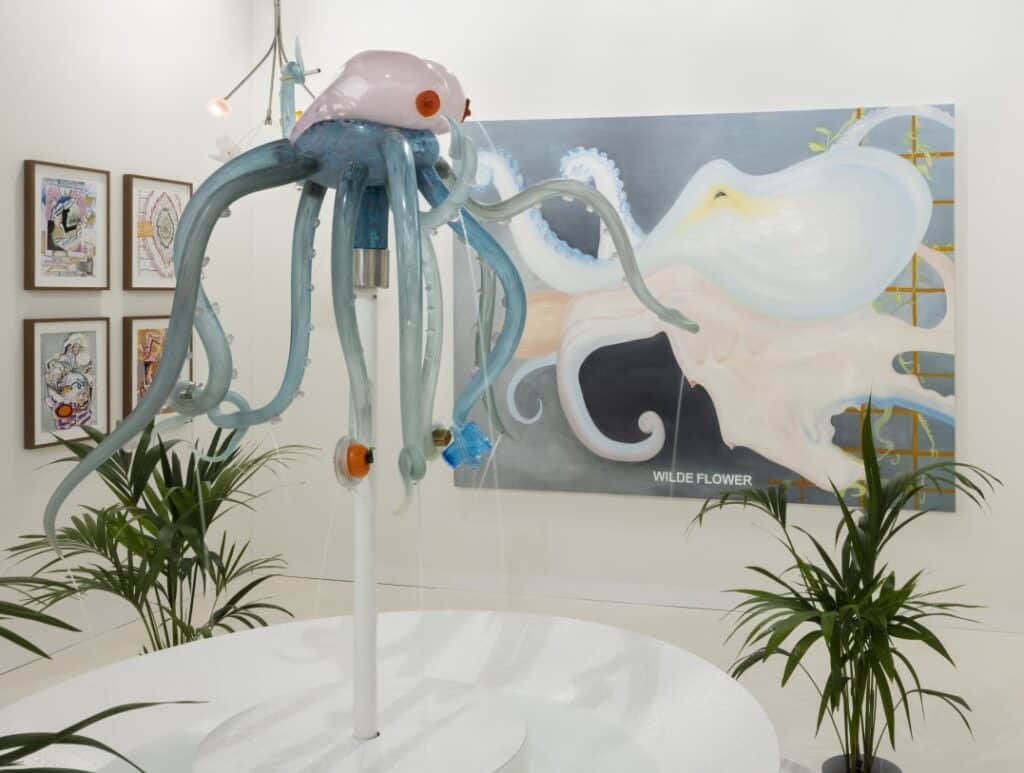 Laure Prouvost: 'The Octopus Body – Wilde Flower', 2022 by Carlier Gerbauer
In recent years, the French winner of the 2013 Turner Prize has increasingly expanded her repertoire of film, installation, notes and sculpture to include painting. Accordingly, it was hard not to view this painting other than through the foreground of a typical fountain, and the octopus shown is the star of a recent film in which he plays the mother in a hybrid world: Prouvost is fascinated by the octopus as a Creature that thinks through its tentacles and protects its eggs, only to die shortly after laying.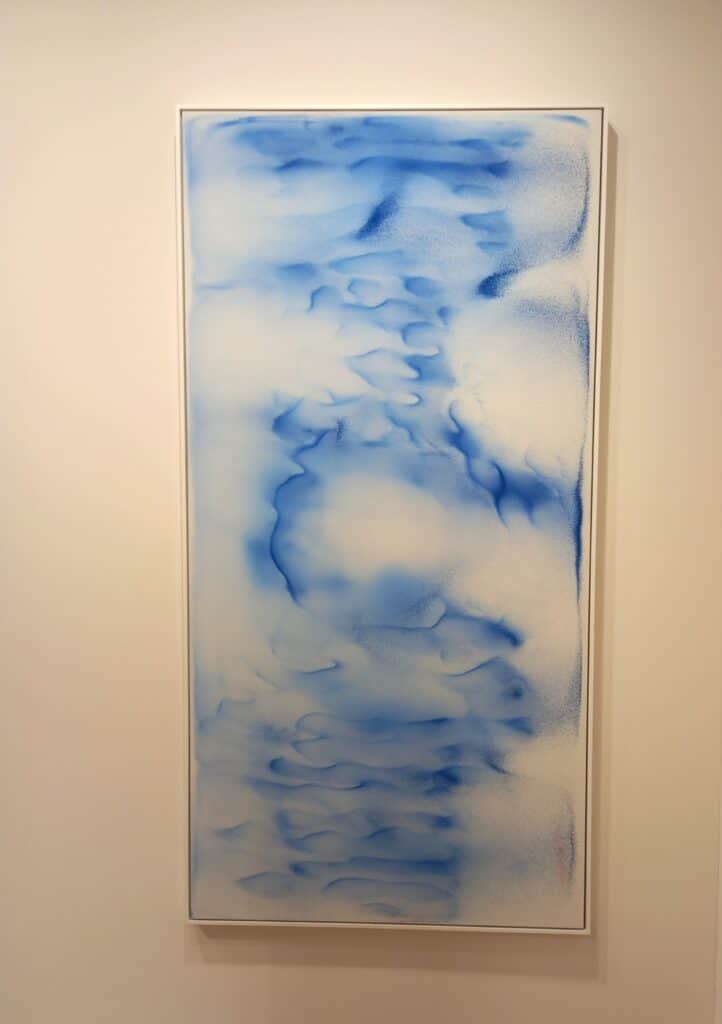 Oliver Beer: 'Resonance Painting (Puff the Magic Dragon)', 2022 by Almine Rech
Oliver Beer is best known for his '2D sculptures', which cut up objects to display them as if they were paintings, and for exploiting the sounds hidden in spaces and objects. His new series looks like fairy-like abstract paintings, but not quite: he sprinkles superfine dry pigments — the color of the Chinese vases he often uses in sound installations — onto a horizontal canvas beneath a speaker. When he plays music – here "Puff the Magic Dragon" – the pigment moves with the sound, so different songs make different patterns, so there's an opportunity for experimentation and composition for that purpose. Beer then fixes the pigment so we can "see the sound".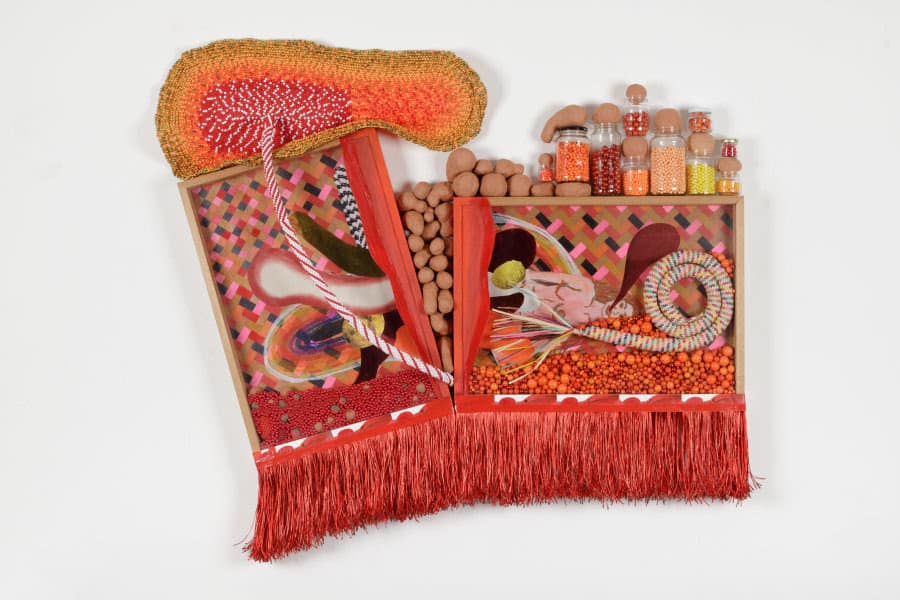 Maria Nepomuceno: 'Boca do mundo' , 2022 at A Gentil Carioca, Rio de Janeiro
It's no surprise that Rio-based Maria Nepomuceno trained as a painter, although this sensibility is most often displayed in sculptural assemblages using materials popular in Brazilian handicrafts. The painting is direct here, though tied into the expected carnival of beads, spirals of colored rope, straw, and playful uses of clay. The organic allusions and references to the collective work of indigenous communities also remain, but the painting allows for a human presence with a speech bubble consistent with considering both the feminine and Nepomuceno's collected sources as the "mouth of the world". .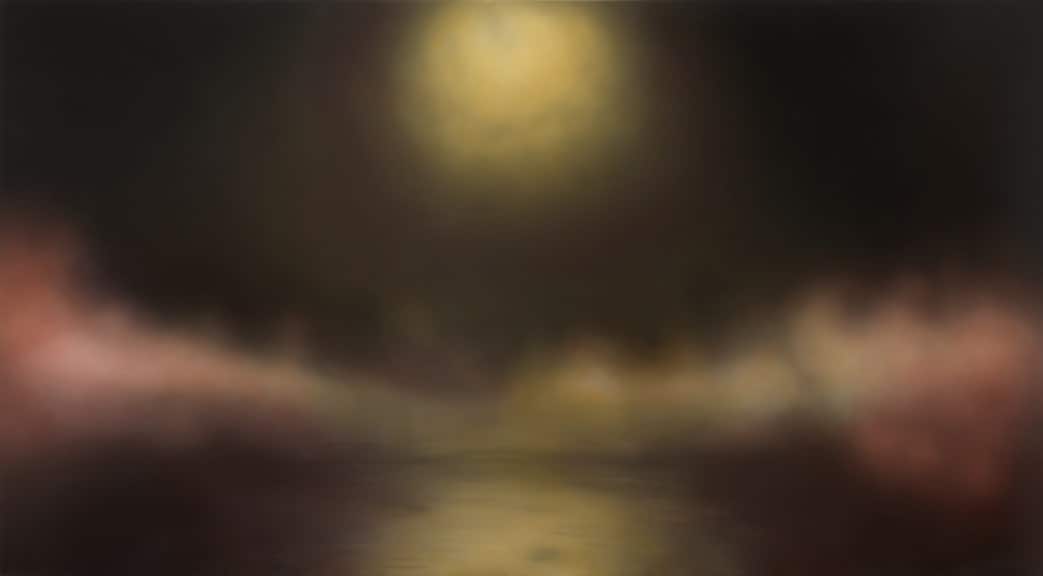 Anne Imhof: 'Untitled' 2022 at the Buchholz Gallery, Berlin
A somewhat different case: Although Anne Imhof first drew attention to herself with her performance in the German Pavilion at the Venice Biennale in 2017, which was awarded the Golden Lion, she always worked across media, studied both music and art in Frankfurt and conceived her practice from that perspective Point of the painting: Your bodies in the performance are gestural surfaces placed in tableaux vivants. This atmospherically expansive work – 2m wide – could be seen as an abstraction or appropriately as an empty stadium being prepared for a concert. And Imhof's partner Eliza Douglas – who appears in her works – also brought her pictures to their best advantage.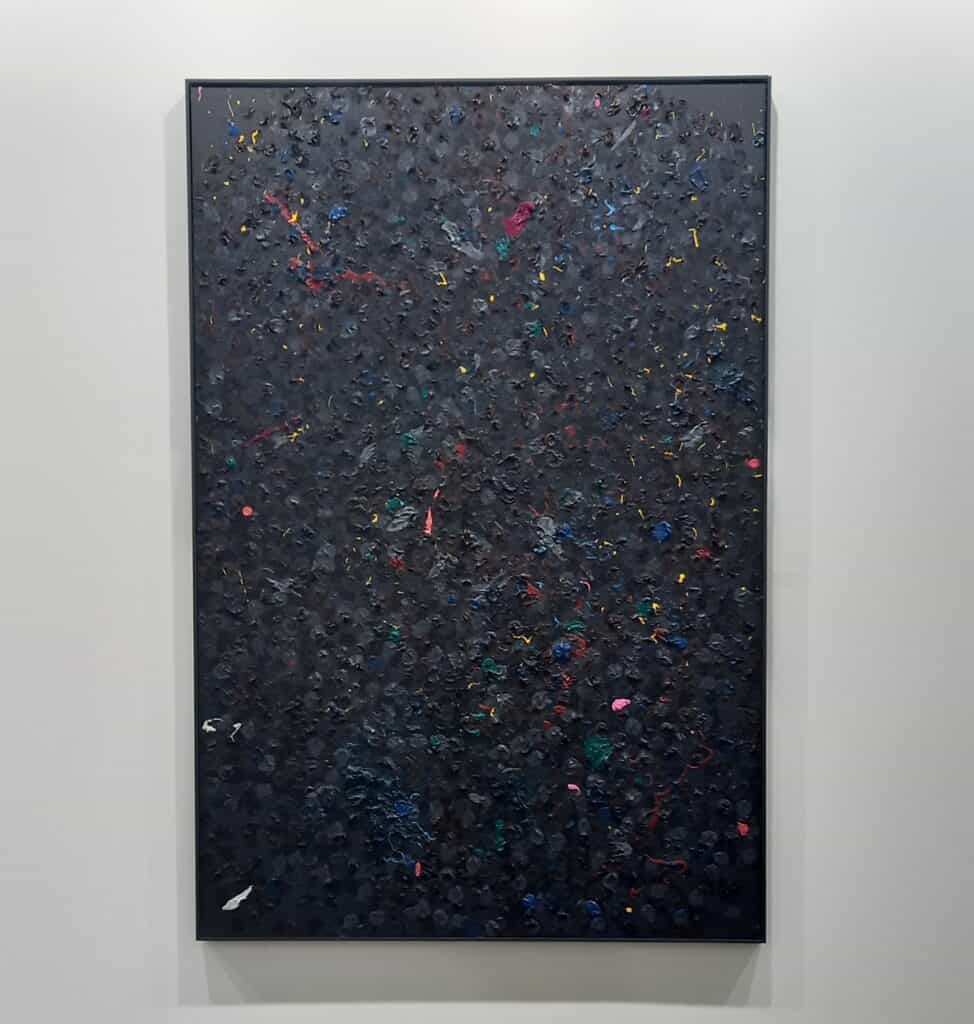 Damian Hirst: 'Confirmation' 2021
It's no secret that Damien Hirst considers himself a "proper painter" after a career built around installations and conceptual paintings (spots, spins, realistic works) with little reference to the "artist's hand". The results have been pretty terrible, right down to his recent obsession with cherry blossoms – although White Cube tells me these are so popular they're unavailable. But this from the Revelation series, which channels Christian titles into a sort of reverse side of the blossoms, drew me into a flat gloom lit by flashes of color — hurled from quite a distance, like Hirst's "Making of" film on Instagram reveals.
And there were others: Latifa Echakhch, Abraham Cruzvillegas, Adam McEwan, Troika, Richard Wright, all showed paintings on canvas or paper.
Art writer and curator Paul Carey-Kent attends many exhibitions: we asked him to write down whatever came to mind
categories
keywords
author
Paul Carey Kent
Art critic and curator, lives near Southampton. Most regularly I write for Art Monthly, Frieze, World of Interiors, Seisma, Border Crossings, Artlyst, … and of course FAD.
What makes art so inexhaustible? Not only is it responsive to a vast and ever-changing world, but the artist chooses […]
Camille Pissarro in 1900 Would you like to own a Pissarro? You may have been in on his biggest UK show […]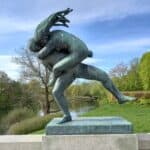 Edward Munch, an outspoken painter, is by far Norway's most famous artist, and a new 13-storey building – 'Munch' as ​​it's known – recently opened in his honor. Strolling through Oslo, however, it's easy to believe that sculpture is the national preference: statues line the streets and I've visited four sculpture parks. For example: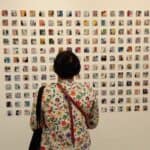 The first post-pandemic edition of the London Art Fair takes place in the usual January April (20th-24th), the mix is ​​as before: lots of bad or predictable material mixed in with enough good stuff to make for an interesting visit.