The Krasl Art Center and the Coastline Children's Film Festival have joined forces for the third annual Flick-or-Treat on October 8th at the Krasl Art Center, 707 Lake Boulevard, St. Joseph.
Launched in 2020, Flick-or-Treat is an evening where you can watch classic silent films with improvised piano accompaniment by Dr. Larry Schanker, Executive Director and Music Specialist at Brookview Montessori School.
From 11:00 a.m. to 12:30 p.m., the public is invited to paint a pumpkin on Krasl's Family Day. This event takes place outdoors, so organizers ask attendees to dress appropriately for the weather, as well as for a pumpkin mayhem. The pumpkins will remain outside for tasting and will be used to decorate the film screening, which begins at 7:30pm
Popcorn, coffee and hot cocoa from Red Arrow Roasters are available while families experience 10 classic movies on the Oval Lawn. A suggested donation of $2 supports the CCFF and KAC collaboration. In case of rain, the event will take place on October 9th.
The films are projected onto the south face of Krasl and accompanied by an improvised piano performance by Dr. Larry Shanker, Executive Director and Music Specialist at Brookview Montessori School.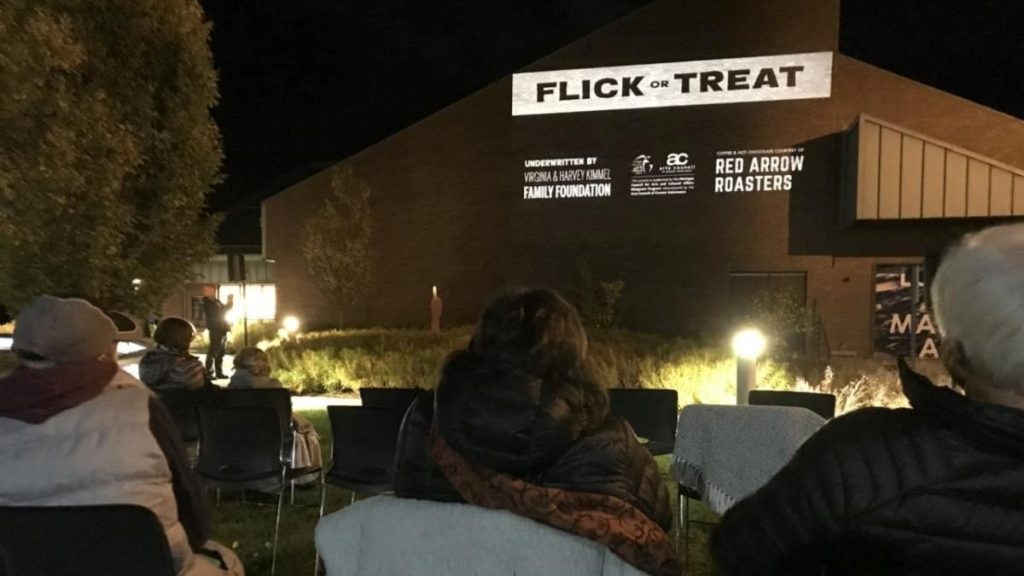 The ten classic silent films are:
The Astronomer's Dream (1898. France. 3:30 min)
The Eclipse of the Sun, or the Courtship of the Sun and Moon (1907. France. 9 min)
The Haunted House with Buster Keaton (1921. USA. 20 min)
The Haunted Ship (1930. USA. 7:40 min)
The Magic Mummy (1933. USA. 6:50 min)
Moonland (1926. USA. 10 min)
Mutt & Jeff Slick Sleuths (1926. USA. 6:10 min)
The Red Ghost (1907. Spain. 9.5 min)
The Skeleton Dance A Silly Symphony (1929. USA. 5.5 min)
When The Clouds Roll By (1919. Dream sequence. 8 min.)
In addition, Sawyer, a feature film, Jason and the Argonauts (1963), will be screened on October 15 at 6:30 p.m. at the Coastline store in the Flynn Theater Building at 5861 Sawyer Road. Enjoy refreshments and spooky board games at an open house from 12pm to 4pm before embarking on this fantasy adventure feature.