Mark Tobin Moore picked up a paintbrush and other material from his Charleston home in 2016, as he so often did, and slowly images began to appear on the canvas in front of him.
"I'm not consciously trying to illustrate anything," he said.
This time, when he was done, he stepped back to look at the piece: the blue starfield, the black holes, the rough terrain, a pair of eyes staring back from under a helmet, a man and a woman – maybe parents? – looking down.
"It's basically a single type … and that was developed using a number of transfer printing techniques."
He thought of the soldier's isolation and how the helmet was there for protection.
He almost called it "Shell Shocked", but found that too negative.
Instead, "it's called" Everyday Superhero, "" he said.
A nod to his father's military service, his time in active service, the men and women he worked with, and the numerous veterans he worked with as a civil artist to persuade them to put their stories in pictures to tell.
"This piece is really about isolation for me, and let's say a male figure who most people wear a helmet, Army says straight away. But it could also mean that there is a person here surrounded by other people … and yet you are here, but you exist in this somewhat scarred environment where there are little things made of graphite chips from West Virginia, "he said Moors.
He points to the rough area around the figure.
"He's still wearing a helmet that is kind of protected from it, but at the same time he's not having a good time."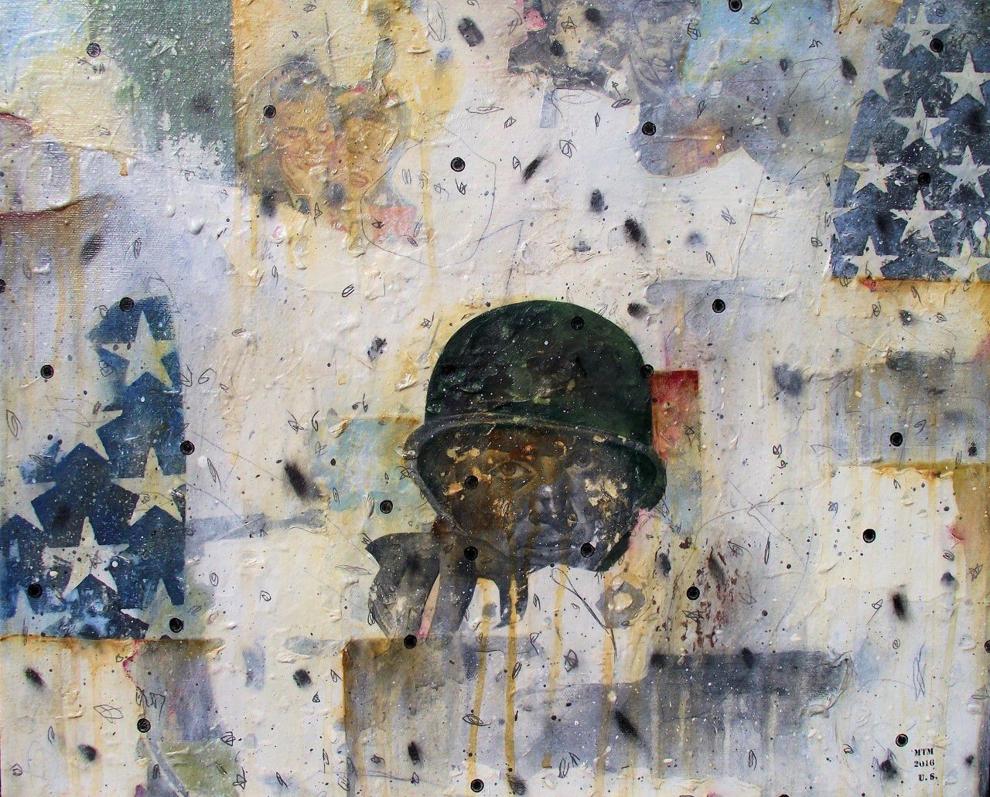 There is a strictness. And maybe some pride in those bold stars.
He keeps most of his pictures at home. They're everywhere, covering the walls, propped up here and there, piled in a corner.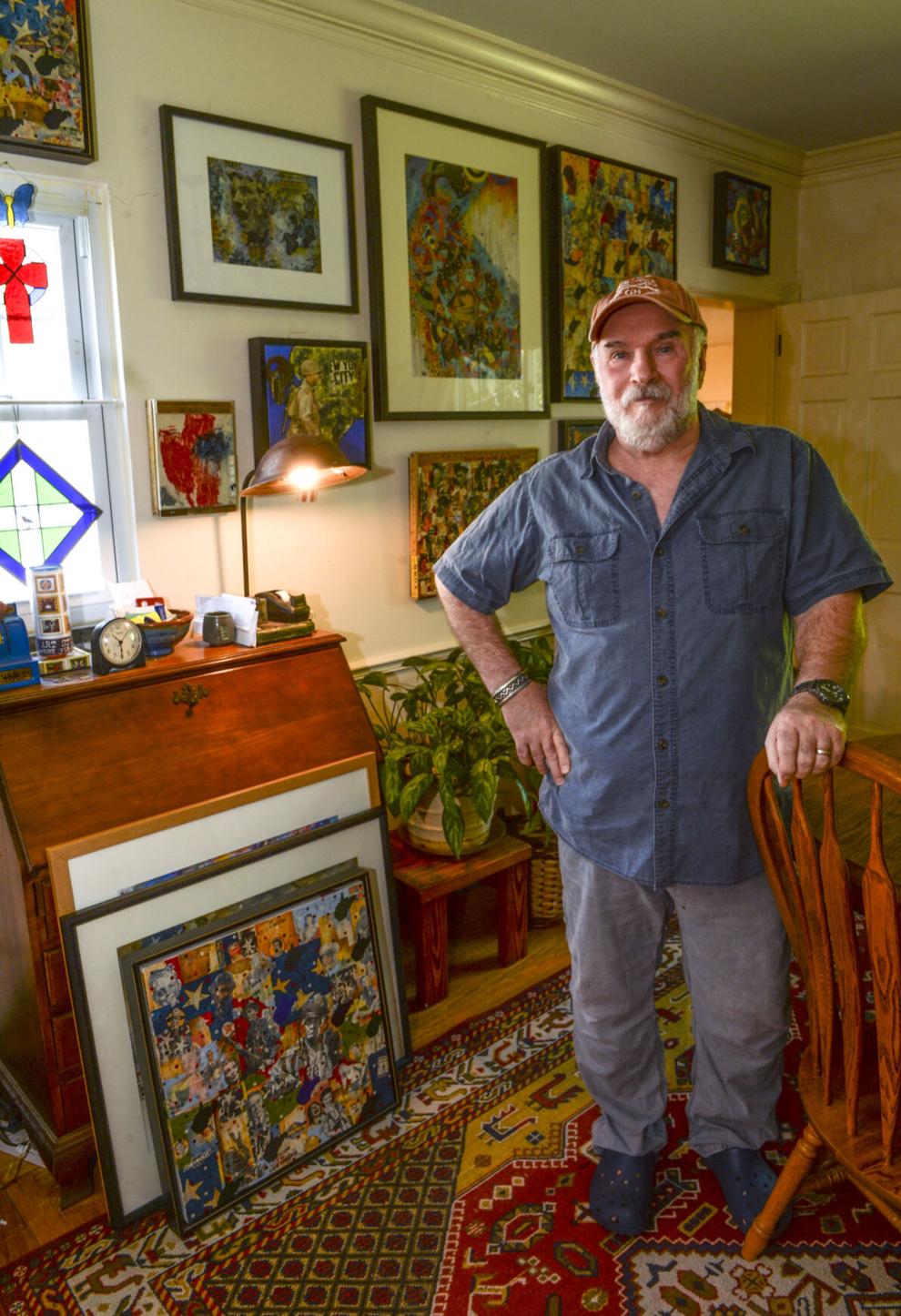 He took a photo of it and posted it on Facebook with a short description.
There it caught the attention of Uniting US, a national not-for-profit organization dedicated to uniting veterans and their families with the communities where they live "through the healing powers of the arts," said AnnMarie Halterman, executive director.
It turns out they were in the process of curating work for an exhibition at the Military Women's Memorial in Arlington National Cemetery – this could be the first of several stops on a cross-country ski tour.
The piece is "amazing," said Halterman, a veteran herself. "He wrote about what a helmet is like, but it represents a superhero who keeps our country as risk free as possible. This is the superhero shield, like Superman has his own little thing and Captain America. "
The painting, which began with no plan, no sketch or vision, is truly "autobiographical in many ways," said Moore.
He grew up in a military family, began drawing pictures of soldiers and battles as a toddler, and had an erratic childhood marked by the experiences of his father, who ran away from home as a teenager and had no intention of joining the military .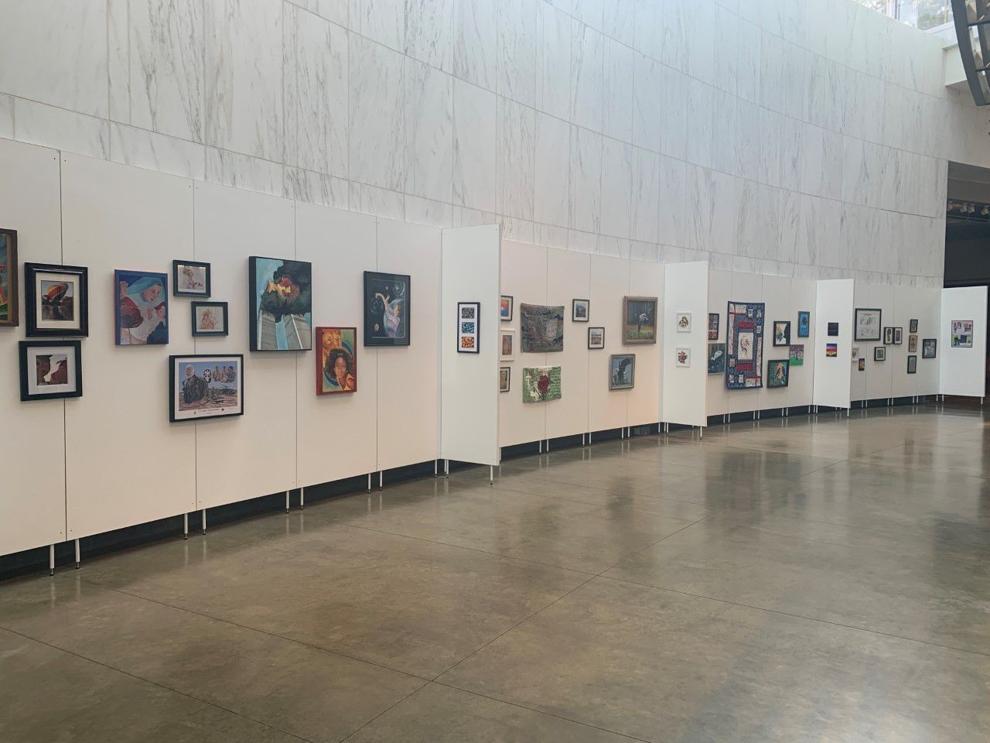 "It landed in the Panama Canal the day the Japanese reached Pearl Harbor. So he was there and they grabbed every guy they could and they gave him a rifle and a bandolier. … He said: "We dug foxholes and trenches on the beach and we expected the Japanese to reach the canal on December 8th." And he had no training. It was just like this: "Here you put the clip in your fire. You won't be alive long enough to shoot more than a few bullets. '"
When that didn't happen, Moore said, his father was officially drafted.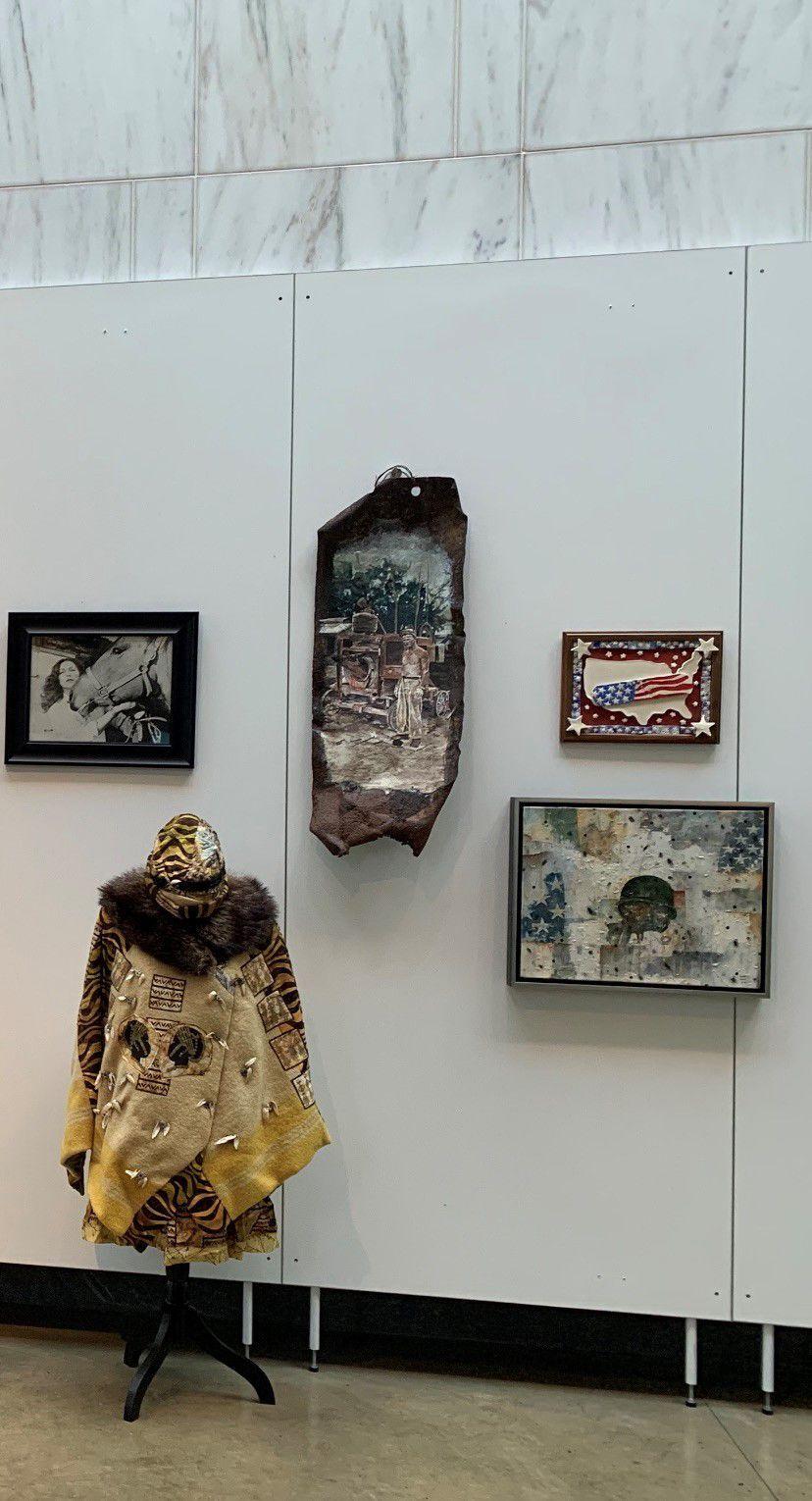 "He never went to boot camp. Neither of them did. They immediately went into service and said, "Just shoot." It was a big emergency, you know, everyone left, "he said.
Over time, in various capacities, "he was in World War II, Korea and Vietnam, all three wars," said Moore.
His father had "some crazy experiences," he said, and perhaps wasn't meant to settle into a quiet family life.
"He was a bit explosive at times. … things like picking up a Christmas tree and throwing it around the room and stuff like that, you know. After everything is covered in the bulbs. … In a way, however, it was normal. All of my friends' parents were in the military. And all of them, all of them, just picked up the stuff. "
As a teenager himself, Moore said, he just wanted to get out of the chaos. After high school in 1972, he joined the army and ended up in the navy, mainly because he could leave the next day.
He said a recruiter told him, "You can probably get out of here tomorrow if you join the Navy." Okay, so I went down the hall and joined the Navy … I had never been on a ship before. I've never seen a ship before, you know And I just said, "I'm going." And there I went and landed on a ship. "
He was assigned to the USS Sierra in Norfolk, Virginia, and later Charleston, South Carolina. He dropped out in 1976 and then returned for a year thinking he would be stationed in California. Instead, he landed in West Virginia, thanks to some insane accident – "I thought I should go here" – and earned a Bachelor of Arts from the University of Charleston before retiring from the military, a Masters of Arts from Marshall University, and later one Master of Fine Arts from West Virginia University.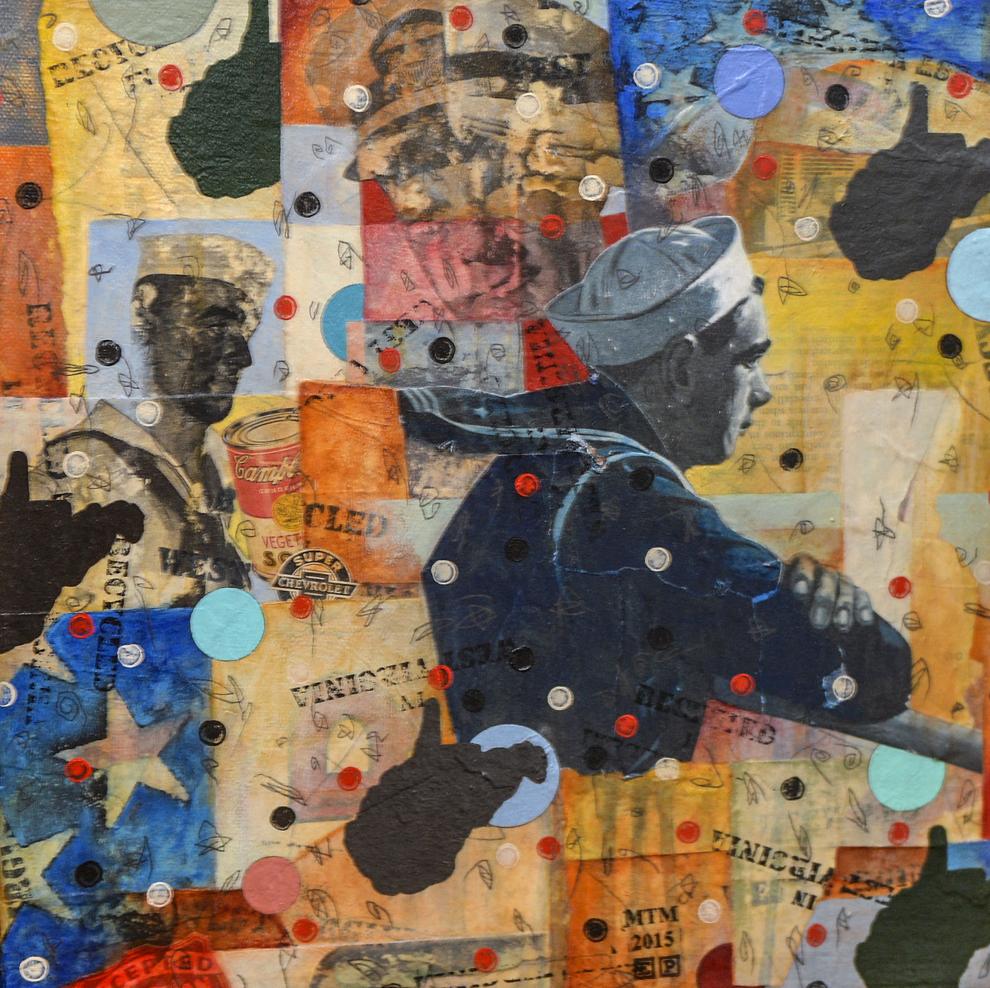 On the way he managed to combine his military background with his passion for art by teaching soldiers art as a supervisory art specialist with the US Army in Giessen: "I was the last American sent to Europe to work there program "- and later organizing an exhibition entitled" West Virginia Recalls D-Day June 6, 1944 "as Exhibition Director at the West Virginia State Museum in The Culture Center.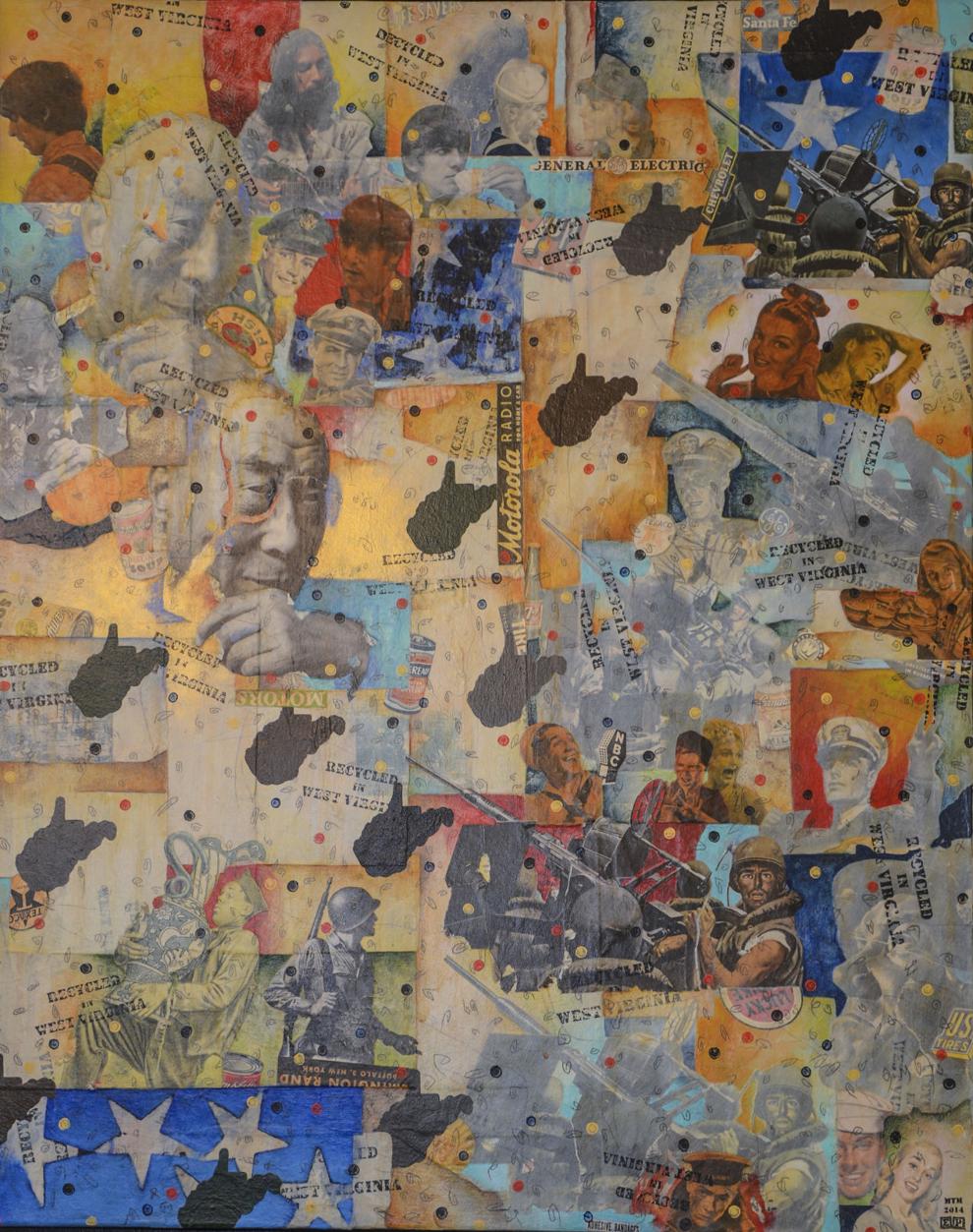 "It was huge," said Moore. "In 1994 there were so many veterans who were still alive and right here. … My vision was to tell the story and record as many artifacts and personal stories from West Virginia as possible, but also get a record. "
Some of the stories, he said, were never told.
Military issues are already playing a prominent role in his private work.
When AnnMarie Halterman finished the plans for the exhibition entitled "Summer with the Arts: Healing". Freedom. Family "in partnership with the Military Women's Memorial, she knew Moore's" Everyday Superhero "should be included. "Mark's play is about service, that there are heroes who step forward and try to improve our country's defense and maintain our freedom," she said. "He's a very talented artist."
The exhibition is open until September. But the play will not return to West Virginia then.
"It will go from the women's memorial to Walter Reed [National Military Medical Center]. They opened a new family clinic there. And from there to Dulles International Airport in a public place, "she said.
"And then it will probably go to the Library of Congress sometime in 2022."
Moore has not been on active service since the mid-1980s. But in a way, she said, he still serves his country.
"I can't help but admire all the things I've read about – like WWII," said Moore. "The sacrifices made by everyone. I mean, incredible sacrifices by so many thousands of people, and not just those who were killed, but those who carried the wounds of war with them for the rest of their lives. "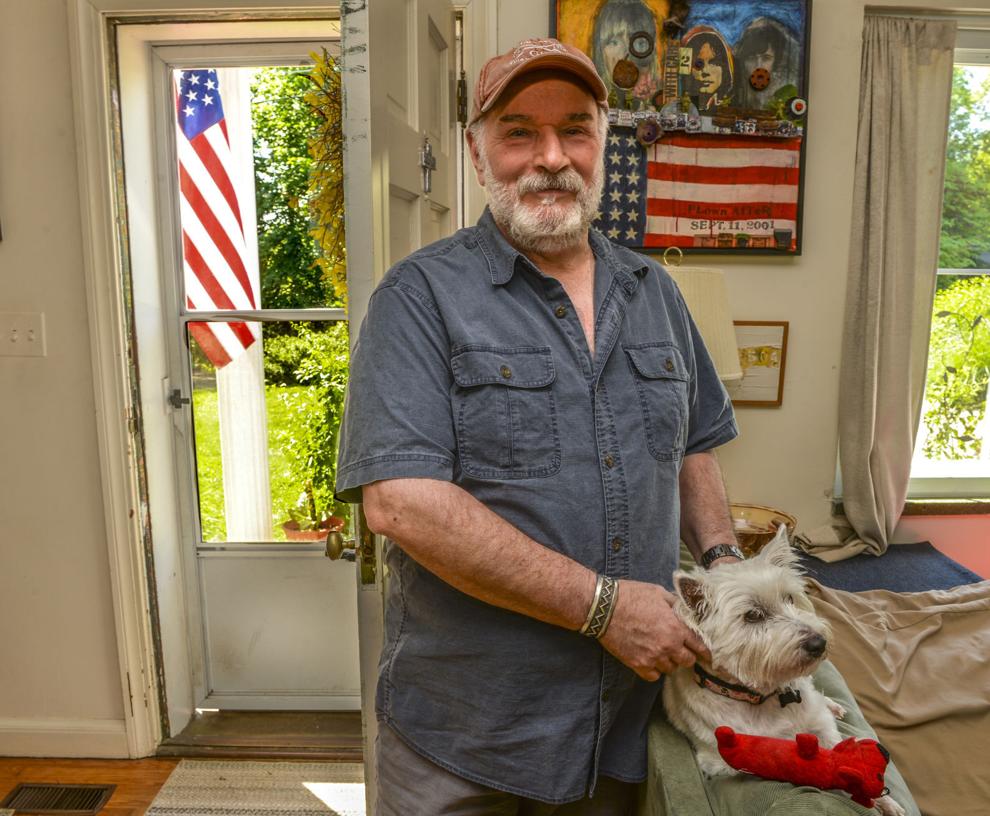 The pictures, said Moore, just come. You are his way of honoring this sense of duty, this commitment to the country and the victims that go with it.
For more information on Uniting US, visit unitingus.org. Further information on the current exhibition "Summer with the Arts: Healing. Freedom. Family, "visit Uniting US's website or Facebook page.