CRANSTON, RI – A copy of Timely Comics Marvel Mystery Comics No. 9, dated July 1940, sold for $40,000, and three other vintage comics surpassed the $10,000 mark at a Spring Comic, Toy & Sports Auction, conducted May 21 by Bruneau & Co. Auctioneers live in the Cranston gallery and on three online platforms. The auction included 430 lots curated from across the country.
The copy of Timely Comics Marvel Mystery Comics #9 was the expected top lot of the auction as it was #33 on Overstreet's list of the Top 100 Golden Age Comics. The book featured the second Sub-Mariner cover, featuring an iconic Human Torch vs. Sub-Mariner battle, and great artwork by Bill Everett and Alex Schomburg. It had an average grade of CGC 4.0.
A copy of Marvel Comics Fantastic Four #1, dated November 1961, graded CGC 2.0, featuring the origin and first appearance of the Fantastic Four and Mole Man, ended at $18,750. "Although it may not have been the most expensive comic at the auction," he said Fantastic Four Number 1 was a great result and a new rating record," said Travis Landry, auctioneer at Bruneau & Co. and the firm's director of pop culture. "I'm sure its value will continue to increase over time."
Landry added: "Overall it was a great sale with consistently strong results. As always, comics proved to be the strongest category of the day."
A copy of Marvel Comics Amazing Spider-Man #1, dated March 1963, rated CGC 1.8, featuring the first appearance of J. Jonah Jameson and Chameleon, the first Fantastic Four crossover, plus a retelling of Spider-Man's origins, grossed $10,938. Also a copy of Marvel Comics X-Men #1, dated September 1963, featuring the origin and first appearance of the X-Men and Magneto, rated CGC 5.0, with a slight restoration, changed hands for $10,625.
The "Madame" doll was popularized by Wayland Flowers (American, 1939-1988) in his comedy act and in the hit TV show of the 1980s Madame's Place. It featured a hand-painted composite head with a movable mouth and an ornate, iridescent dress with rhinestone earrings and a necklace. It was recently featured in an episode of PBS Antiques Roadshow and was accompanied by a VHS of Flowers featuring the doll. It cost $7,812.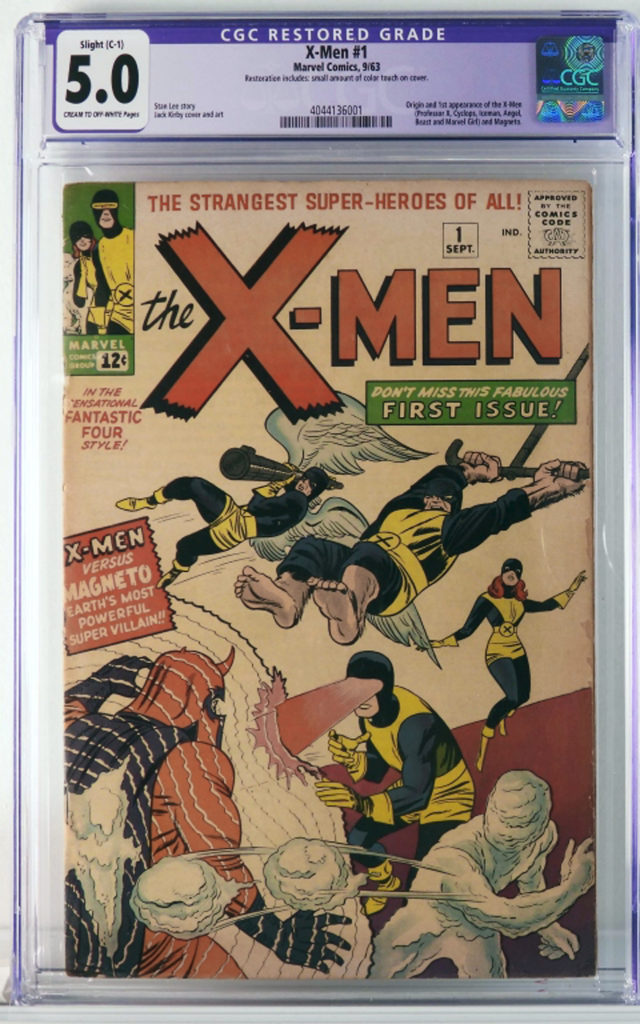 "Unfortunately, I was not at the gallery on the day of the auction," said Kevin Bruneau, President of Bruneau & Co. Auctioneers and Auctioneer. "I was with Joel Bohy, Director of Bruneau & Co.'s recently created Department of Arms & Militaria, working on a local appreciation event benefiting senior citizens.
However, looking at the auction results, I know it was a great day for the Pop Culture department and the gallery as a whole. I'm looking forward to the next one."
Other highlights include a December 1953 issue, Volume 1 No. 1 of playboy Magazine featuring Marilyn Monroe's iconic color nude photograph as "Treasure of the Month", published by HMH Publishing Company, rated CGC 6.5 went for $6,250. A collection of Playboy magazines beginning with the January 1954 issue and lasting through August 1961 grossed $6,000 and was in approximately CGC 4.0 to 7.0 condition.
A 1978 Canadian Kenner Star Wars 20B Back Boba Fett Action Figure, part of an Original Owners Collection, featured throughout the auction, rated CAS 75, sold for $4,625.
The prices shown include the buyer's premium stated by the auction house.
For more information call 401-533-9980 or www.bruneauandco.com.